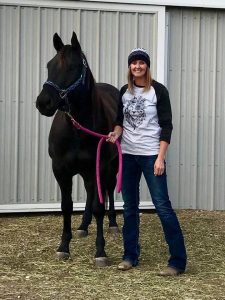 When we read Jody Pancoast's submission to become a #ridethestridewear ambassador, we were instantly inspired.
Jody is a barrel racer who got started in the sport later in life and is kicking butt! She is a mom. And she is a fighter, battling with auto immune disease everyday. Her strength and tenacity is a force to be reckoned with and we knew we had to share it with you all!
⠀
1. Jody, in your submission to be a #stridewear brand rep, you told us that you had always dreamed of barrel racing when you were younger, but that life kind of got in the way. Not only did you like to go fast, but the bond between horse and rider is what you were truly after. It was until your 30's that you decided you were going to finally pursue your dream. Tell us about your "aha" moment and what you had to do to put it in to action:
Jody: After College and growing my career I got a new horse and got back in the saddle, mainly riding at my parents ranch. I kept my horse there too as I lived in the city at the time and it was about an hour long drive. I rode when I could and that was that. Over the next 2 years I got married and was diagnosed with Scleroderma, I was so weak at one point I could hardly get on my horse even with a mounting block. I had a good team of doctors that got my immune system under control and once I was stable and getting strength back I just decided, life's too short, I've always wanted to barrel race, so that's what I'm gonna do! I sold my rope saddle and got a barrel racing saddle (so crazy I remember when I used to go to the saddle shops and would drool over the barrel saddles but always thought "no, that's not practical, I don't barrel race haha"). I bought a used blingy double J lol and thought it was the greatest thing ever! I set up some barrels in the hay field, read the Sharon Camarillo ART of Barrel Racing book and set out to be ready to enter a local rodeo the end of summer. We are very lucky now with all the online resources and Facebook shares as far as being able to obtain training info on demand!
2. Tell us about how you found the strength to pursue a passion that wasn't initially laid out for you through having a rodeo family. We hear so much about those being third generation rodeo athletes etc, and never enough about those that set out to do it on their own. Tell us about that part of your journey and how you found the motivation to move forward?
Jody: I think my motivation and strength just came from somewhere deep inside that I had always had a passion for horses and barrel racing. This was something I had wanted to do since I was a little kid and when I turned 30 I just went for it. I would drive the hour to the ranch, get my horse, then drive to the jackpot then back to the ranch, then back home to town to go to the local series that winter until I started keeping my horse at my In-laws place which was much closer to town. I was lucky that my husband's father and brothers had recently gotten into team roping and had horses as well. That horse I bought actually came from my Father in Law who had trained him.
3. We know that you have a Derby horse currently. Aged events are so tricky! They are still learning with every run. You mentioned that you are still seasoning and making and fixing mistakes. How do you look past the mistakes and recognize your horses potential in order to continue on and enter the next run?
Jody: Pyro is the 4th horse I've trained on barrels and competed on. He is the first actual barrel bred horse I've owned and I got him at the age of 2 so also the youngest and greenest horse I've trained. He was making mistakes his futurity year and still clocking pretty good. He found his run this past year and we've been working on consistency and confidence. I really think all the pieces of the puzzle are there, he has a great disposition he just needs to grow up a bit more. Going to the derby's this year has been a great learning experience for me especially. The competition is so tough and with all the talented trainers and horses out there you can learn a lot just by being there and being part of it. I have no doubt made mistakes in my training and jockeying but striving to improve myself and my horse. Just knowing that we are capable of so much more keeps me motivated!
4. What was your favorite lesson from the Mental Toughness Bootcamp and how did it help your riding and relationship with yourself and your horse?
Jody: The whole course has impacted my life in such a positive way but if I have to choose Ride The Wave, I Am….., & Let It Happen have helped me the most! I've learned to relax, kick the Ego to the back seat, and not try to force things. Also being aware of my vibe and performance state have been so helpful.
5. Jody, your battle with Scleroderma is such an inspiration to others facing physical adversity. On your worst days, where did you find the strength to carry on? What motivated you?
Jody: I really learned to take care of myself better and listen to my body. It's hard to get the rest you need sometimes but that's really important so sometimes saying no to things and doing less is better. When I love and am passionate about something I am naturally motivated to power through the tough days.
6. What does it mean to you to trust the process and #ridethestride? Where in your life and horsey journey have you put this in to action?
Jody: The Mental Toughness Bootcamp really helped my relax and not try so hard to MAKE things happen. I've learned there may be some things you can MAKE happen but a lot of things you can't, so many things are out of our control and that's when you really need to trust the process and #ridethestride.
7. What advice do you have to others that may be pursuing their dream later in life
Jody: Age is just a number and it doesn't matter what you want to do, just go for it, live life to the fullest because time waits for no one and every day is a gift!
Thank you Jody for sharing with us! 💜