The qualities of strength and perseverance are exercised and strengthened through times of adversity.  It is through these times where we experience growth.    While one person grows many others are inspired by their actions.
There are many strong and inspiring horsewomen out there that we look forward to interviewing, but the first one that came to our minds here at Stride Wear, is a young lady named Colby Gilbert.  The 24-year-old Public Health Nurse from Maple Creek Saskatchewan, who now lives near Ponoka, Alberta, has certainly made a name for herself. Daughter of well-known trainer and clinician Andrea Udal, Colby has excelled in every arena where she has ran down the alley.
In 2016, Colby landed amongst the stars – qualifying for the Canadian Finals Rodeo during her rookie year, a feat that is rare to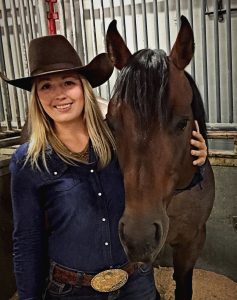 accomplish. Safe to say, she blew us all away. But what happened next, although terribly tragic, was inspiring to follow.
In 2016, Colby landed amongst the stars – qualifying for the Canadian Finals Rodeo during her rookie year, a feat that is rare to accomplish. Safe to say, she blew us all away. But what happened next, although terribly tragic, was inspiring to follow.
At the end of the season shortly before the CFR rolled in to town, Colby unfortunately lost the most current mount that helped get her there – French Streaktorodeo aka "Rodeo". Owned by Corny and Maria Wiebe, this amazing stud had made a mark on everyone's hearts. His performance was flawless in the arena, and his looks – to die for. He was the kind of horse that everyone stopped to watch. The entire barrel racing community was devastated. "French Streaktorodeo" was by the great "A Streak of Fling" and out of a full sister to Frenchmans Guy – "PC Frenchmans Flirt". Barb Westover of South Dakota raised him, along with all of his very talented full siblings; "French Streatovegas, French Streakin Jess, French Streaking Gem, Freanch Streakin Izzy. Barb consigned him to the Fulton Sale where he was purchased by corny and Maria Wiebe from Grassy Lake, Alberta. Corny and Maria owned Rodeo until he passed.
Admist the chaos of the heartbreaking situation, it was hard not take note of the grace that Colby handled herself with as she made her way down the alley without her "best guy". People everywhere were inspired.
The main goal of Stride Wear is to remind horsewomen to breathe deep, stay present and #ridethestride. Colby's story is a perfect example of this, and we are sure it will touch many hearts, and help others find the strength to keep running when they've been pushed down. So here it is, the story of Colby Gilbert's "Life after Rodeo":
Stride Wear: 
What were your biggest wins and successes with Rodeo?
Colby:
Rodeo was just a very dependable horse. I first saw Rodeo in Corey Davis' barn just outside of Lethbridge when I was going to university. We were talking one day and she said to me "man Colb you have got to see what I have in my barn right now! He's a full brother to French Streaktovegas." I kind of laughed and said something to the effect of "are you sure Corey? In Canada?" Well sure enough in the back of the barn I met Rodeo for the first time. One thing that always stood out about Rodeo to me was his eye. Big brown, and soft. Rodeo took to the barrels like it was nothing and before long he was winning local jackpots. It wasn't until my good horse at the time went lame one day on my way to Rocky Mountain House that I decided to give him a shot and start hauling him to the rodeos. I didn't know much about hauling a stud around but he was all I had and
Corny and Maria were eager to see him do well. So off on the road he went, he ran a 17.8 to be placing leaving slack at his first pro rodeo. My most memorable runs of him were of course the run in Calgary when he qualified us for the RFDTV American Semi-Finals. He was just one of those horses that didn't have a lot of foundation and slow work on the barrels, he just knew he liked to go around them. He usually was a consistent 17.4 on a standard and he placed at lots of rodeos. He placed at the Runaway the first year it
was held with a 17.4. The year I made the CFR I had a good start with a couple thousand won on Rodeo's sister Famous. When Rodeo got done breeding late summer High River was his first rodeo. He went on to win $9,076.40 for me that late summer and fall at rodeos such as Teepee Creek, Morris, Medicine Hat, Dawson Creek and the Cinch Finals to make our first CFR. He was just naturally so talented and confident.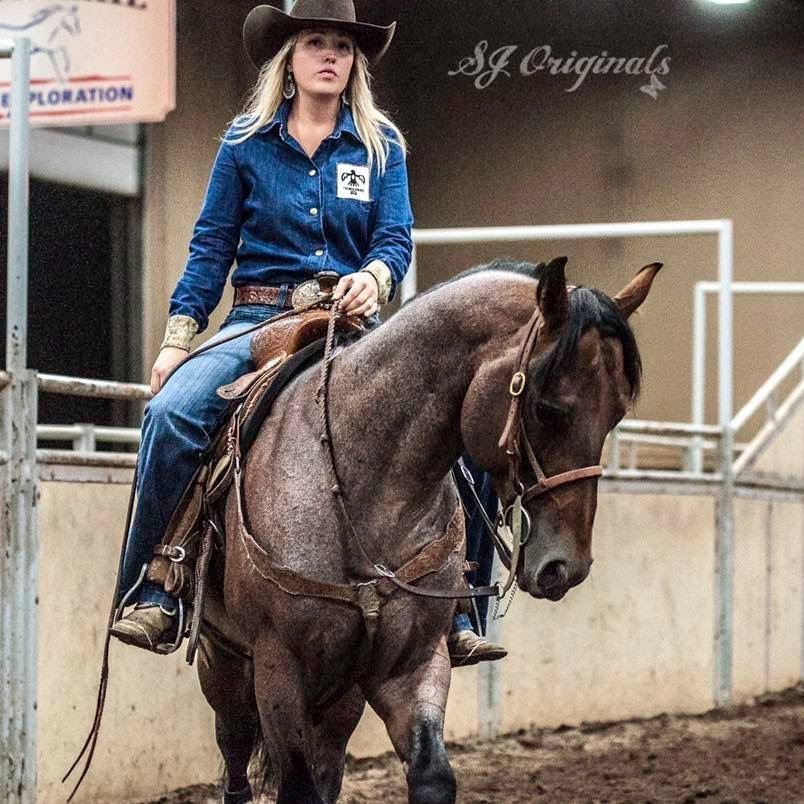 Stride Wear: 
Where did you draw from to have the strength to compete at the CFR without Rodeo?
Colby:
It honestly was just a really tough experience for me. I have been really lucky in my life in the sense that I haven't experienced much loss very close to me. I know it seems silly to some but you don't truly know how much the good ones mean to you until they're gone. I had a lot of support when Rodeo passed away and even before when we were unsure if he was going to make it or not. I was very fortunate to get videos of him everyday while he was in Saskatoon and I still have them and look at them from time to time. I flew out to see him when we knew things were headed south, it was a very special day. The vets said they had never seen him so lively and full of fire as the day I went and saw him, that still hits me in the feels. The support from so many people was something that really amazed me. People I didn't even know were messaging me and telling me how much they admired him and were rooting for him. An example of things people were sending me was this "Hey Colby, my condolences to you at this time. I just wanted to share something with you that meant a ton to me when we lost a horse this Spring. According to a certain culture when a horse passes they were taking the place of something bad happening to their person. Just know that Rodeo was and still is watching over you." It still gives me goosebumps and brings a tear to my eye even writing that. How thoughtful of people to take the time out of their day to say something like that. Even now 2 and a half years later I want to send out a thank you to everyone who stood behind us through that difficult time, you were the ones who helped get us through.
Stride Wear: 
Has the loss of Rodeo changed your perspective on setbacks or frustrations with other horses?
Colby:
I think the loss of Rodeo just really has made me realize how hard the "good ones" are to find and make. It's not often you find a nice horse that can just go and place at every rodeo, especially with how little time Rodeo had underneath his belt. It has created many frustrations and maybe even feelings of hopelessness sometimes with the worry that maybe I wont find another one quite as good as him. At the same time though, it really has made me feel that much more fortunate to have had the chance to enjoy him.
Stride Wear: 
What are your current and future goals with horses?
Colby:
Right now I have a really nice mare that is coming along very fast. She is a handful most days but she just wants to be a winner. I've been taking her to the futurities and actually just entered a few of the smaller rodeos so we will see where it takes us. I'm trying not to get in too big of a hurry with her and just enjoy the process. As far as my Rodeo babies I am just excited to be finally on their backs! My 3 year old is the only Superstakes I have so I am just hoping to have her ready for that.
Stride Wear: 
Will we see you make a run for the CFR on a Rodeo baby sometime?
Colby:
I hope so! My 3 year old, "French Streakin Cat" is really nice, she is out of a Dually Cat mare. Then we have a 2 year old gelding out of a Caught Me Lookin' mare and a 2 year old filly out of an All Star Special. They are all pretty special to us. I also made sure to get one in the very capable hands of Shelby Spielman, so were excited about that one too!
Stride Wear: 
Do you feel like loosing Rodeo at the most opportune time has made you stronger in any way?
Colby:
I feel like now it has. It was hard at the time because I feel like it took away the fun and excitement of my rookie year at the CFR. I was so heartbroken and disappointed that it just really was hard to enjoy the biggest accomplishment I had had thus far. If I could go back I would have tried to make more of the week we had there because as many know it's hard to get there and you never know if you'll get another crack at it. But looking back I think it taught me a really good lesson to not take anything for granted, it was a tough lesson but I know there was a reason for it.
Stride Wear: 
What is the biggest thing that Rodeo taught you that you apply to your riding and training style now?
Colby:
Rodeo taught me how to go fast and how to win. I have always gone to the rodeos on colts and he was the first horse I think I have ever kicked to a first barrel, lol! He taught me to be aggressive and just go for it every time.
Stride Wear: 
What did you use or look for in order to make sense of what happened and why?
Colby:
I had a lot going on in my life at that time between being in my last year of nursing school and trying to figure out where my life was headed. My mom said to me, you know maybe your life wasn't meant to go in the rodeo road direction. Maybe if you would have went to the CFR and been successful you would have wanted to go down south and try your luck at those rodeos. When Rodeo passed I finished my degree, moved to Ponoka and started a life I could only dream of having. I think maybe it was a crossroads and in reality I probably wouldn't have been smart enough or wise enough to choose the path I'm on now. Rodeo is a great life but getting my nursing degree and now having a home and a person is such a great feeling as well. I like to think this life I have now is Rodeo's gift to me, although I truly miss him having him around everyday.
Stride Wear: 
What techniques or tools do you use to keep your mental game strong on the road?
Colby:
I honestly haven't been on the road much lately between having futurity horse, colts and working but I think such an important thing is having good, positive supports and just enjoying the year. The rodeo season is short and I know we all despise when the snow flies and the CFR comes to an end and cant wait for April to roll around again. I think just taking a step back and realizing how lucky we are to get to live such a great life helps me keep things in perspective.
Stride Wear: 
Do you have any advice to give to other horsewomen when it comes to dealing with career altering situations like this?
Colby:
It may seem unfair or like the worst thing that will ever happen to you but its not and things could always be worse. I think it's easy to get bitter instead of get better and I think for awhile I did get bitter. I felt like I couldn't catch a break where in reality I had the opportunity to go out on the rodeo trail with two outstanding athletes and make the CFR as a rookie. What an amazing opportunity and gift. Just take a deep breath, a step back, learn from the experience and grow from the loss.
Stride Wear: 
What is the biggest thing you have taken away from the loss of Rodeo?
Colby:
To never take for granted a good horse and realize they don't last forever. I had a scare this spring with my good futurity horse where she coliced real bad, it took me right back to losing Rodeo.   I've enjoyed every single ride since getting her
back home.
Stride Wear: 
Is there anyone you would like us to give a shoutout to?
Colby:
Rodeo had a great career and he was very loved by me however, he also had the biggest and most supportive family at home. I could never thank the Wiebe family enough for allowing me to be such a large part in this horses life. They have some really nice mares these days and are still raising his babies as they had collected frozen semen for a few years.
I also have to thank my mom, she has been the strongest, most influential person in my life and I just wouldn't be the person I am today without her.
Finally, thank you to Shelby Wickson and Michelle Davey for thinking of me for this article. I'm so honoured that others like to hear about Rodeo, he was so special to so many of us. He was the most talented, gorgeous and the winningest horse I've had the privilege of having in my barn. "French Streaktorodeo", what an impact you've left behind. We look forward to seeing all your babies in near future.
Stride Wear is so grateful to Colby Gilbert for taking the time to share her story of Rodeo with us. It is such an incredible reminder and real life experience of learning to #ridethestride, and we can't wait to see what it teaches other horsewomen out there.
Until next time,
Stride Wear